Blogger At Night – Smile Brilliant + GIVEAWAY
DISCLAIMER: This post is affiliated with and sponsored by Smile Brilliant. I may have been compensated in a form of paid post or discounted/free product and/or service. All views and opinions are always my own. We would love to thank you all for supporting these brands that support G&D Blog. 
When we started to jump into the blogging world (and still, not satisfied to be called as a couple blogger), I was having a hard time to manage my time to work on the website and social media accounts (until now though), to a point that you can say that I am this so called "Blogger At Night"- welcome to the club!
| Read: 4 Reasons To Blog – Why G&D is blogging?
Honestly, I'm feeling like, "Dang, shall we just shut this down?!". But at the end of the day, we're like, "No! It's been a year! Keep it up, G&D Blog is being recognized.".
Speaking of being recognized. Yes, aside from the brands who sponsored some of our blog posts here, two websites found our blog interesting.
First is the Gay Blogs Award 2017 of Buscar Pareja ES. If you're following us on our Instagram and Facebook Page, we posted this amazing nomination that we got from them. So if you haven't seen it, check out the link below and yes, please vote for us.
Second is from Feedspot.com. Feedspot is one of the amazing websites where you can read all the websites that you want, just in one spot. And that being said, they got to add us on there Top 100 Gay Blogs and Websites for LGBTQI Community and we're on rank 30.
| Top 100 Gay Blogs and Websites for LGBTQI Community |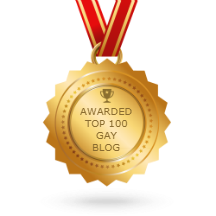 "A smile is the prettiest thing that you can wear."
Wow! We never realized that we will be recognized by other websites out there. This is a good start for us. We just need to create more content that are fun and relatable for ya'll.
That being said, this means that I need to manage my time wisely. Especially at night, which is my only time to do all the blog work, because that's when the people in the neighborhood and my husband David are sleeping.
And as brands showing up on our email, I need to make sure that I can provide the content or the service that they want from G&D. I apologize for some of you guys who are not getting any reply yet from us, we're still new in this thing (yeah, still), but we're getting there. It's just that, there's a lot of you brands asking to have a space on our site. Patience, patience. Form a straight line, let's do it one by one, we got this! LOL, yes, that's how it feels like, to be honest. *wink
I'm glad that Smile Brilliant reached out to me, one day. They gave me a reason to do something while I'm doing blog work at night.
Smile Brilliant is a teeth whitening system that you can do at home, without having a dentist appointment. To be honest, my teeth were not that white. They're yellow, but not that really yellow, but okay, whatever, they were not white. So, they need to be whitened. This is the only reason I shamelessly accepted it, with their campaign #SmileFearlessly (check out my Smile Brilliant teaser video) , girl you're really going to give it a try.
Ever since I got here in the US, I've been drinking a lot of coffee in the morning- like 2 to 3 cups (or more than that). And coffee is like a notorious teeth stainer and it's kind of noticeable.
I never had teeth whitening processes before. I just had a couple of teeth cleaning, brushing my teeth everyday, and that's all. That's why I just love to pout whenever I'm on camera.
So here's what happened, let me tell you how my teeth whitening journey worked in 2 weeks.
I sent them the details of my dental history.

They sent me the teeth whitening kit- with the

custom-fitted trays

and pastes to make the impressions;

the whitening

and

desensitizing gel

syringes.

Filled out the form for the terms and conditions of the process, put it in the provided envelope together with my molds for my impressions.

After 3-5 days, I got my impressions, and the teeth whitening process began!
Like what I said earlier, Smile Brilliant gave me something to do at night aside from doing some of the blog work. And to tell you, my coffee routine didn't change, which is just usually in the morning.
Want To Join Our GIVEAWAY?!
Because G&D and Smile Brilliant would love to give you a $139-Smile Brilliant Gift Credit that you can use to purchase a whole teeth whitening system!
**Giveaway is open for 1 week. Open to USA, UK, Australia, and Canadian residents.
**Giveaway is done through Smile Brilliant's internal platform and will not use any third-party website.
Gerome of GD Blog
Creator
I'm the writer and creator behind GD Blog | Proud Filipino, born and raised in the Philippines | Happy and gay | Married to David | I moved to US to be with my man and we will start traveling, so technically, not staying in US | Life survivor | I'm just an average person like my readers | Someone that you can relate to